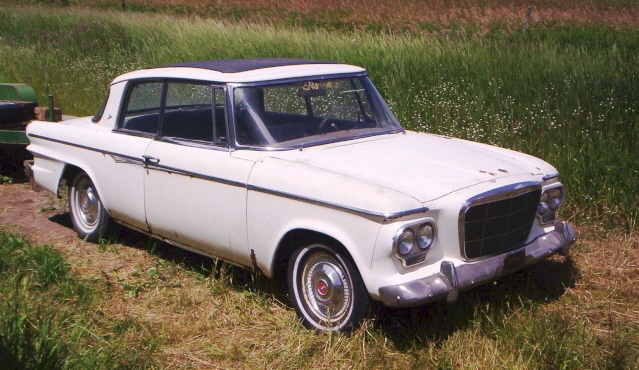 I have a good friend who lives in rural New York and he had told me for years of seeing a Studebaker just sitting along a road near his house. He had stumbled across it one day but couldn't recall it's exact location.
     We had tried in vain to find the lost Studebaker several times during visits to his house. In 2005 I was visiting and we decided to try again. We were on some of the same roads we had tried before but this time for some reason when we came to an intersection we turned left instead of right and something caught my eye.
     Off to the left the sun was reflecting off a piece of glass or chrome and shining through the heavily wooded section. We went that way and in about 100 yards came to a house sitting down over a bank. There beside a rusty old school bus sat a Lark. At first that's all I could make out but when we got closer and went down the driveway could see the car better it got a lot more interesting. It turned out to be a 1962 Lark 2 door.. It was an odd mix, it was a Daytona, a hardtop with the rare Skytop option, bucket seats and an automatic tranny but with a six cylinder engine.
     After a bit of haggling with the owner we settled on a price and I made plans to come back with a trailer. The car had been sitting for a long time and I doubted it would run but the day we went to pick it up it was sitting up by the road. It had indeed started and was driven up to the road so it could be loaded easier.
     The car didn't look too bad from the outside but when I looked the car over better I found it had not faired very well in the western New York winters. The body needed a lot of structural repair. Even though it did run the engine knocked like an angry landlord looking for rent. I decided if I was going to resurrect this Skytop the best plan would be to find another '62 hardtop and change the roofs. It sounded like a lot of work but less than repairing the existing car would require.
     I never did end up fixing the car. I found it a new home during an annual Studebaker swap meet later that year. I saw the car again, for sale in 2006 in South Bend during a swap meet there. I guess the new owner decided that he didn't want to get that involved either. It turned up again in 2007 at the International Meet in South Bend and I understand it had a couple more owners since then. Hopefully it has finally found a place to rest and get restored.
     Those forgotten old car are still out there to be found if you just look carefully and explore some back roads.